Saudi Arabia visa requirements for Hungary citizens
Good news for Hungarian citizens, the Saudi government has approved for Hungarian citizens to enter this country through e-visa. This means that you will actively apply for a visa anywhere with just a device with an internet connection.
Keep reading to understand Saudi Arabia visas for Hungarian citizens. Let's start!
1. Check Saudi e-visa for Hungary citizens
To learn about Saudi visa requirements for Hungarian citizens, let's learn a little bit about what a Saudi online visa is!
Saudi online visa bio
Saudi online visa is called an electronic visa, e-visa, or ETA (electronic travel authorization),... is a system developed with the aim of saving passengers from long-term and tiring bureaucratic procedures, as well as creating an alternative to visas issued at the borders. 
What types of Saudi e visas are available to citizens of Hungary?
This Saudi e-visa can be used for sightseeing, visiting relatives, attending events, and performing Umrah.
A multiple-entry Saudi e-visa is valid for one year from the date it is issued with multiple entries. Candidates from Hungary are only allowed to stay in Saudi Arabia for 90 days after their trip date.
E-visas can provide a more transparent application process, as applicants can track the status of their visa application online. 
2. Guidelines for applying for a Saudi Arabia visa for citizens of Hungary
Step 1: Fill out the Saudi visa application form online. Please fill out this form with all of your personal information.
Step 2: After carefully reviewing all of your information, make your payment. You will receive an email confirming full payment after completing payment and will be asked to provide additional documentation to complete the application.
Step 3: Obtain the e-visa outcome. The approved Saudi e-Visa will be electronically processed and issued, and the traveler will be notified via email. So keep an eye out for our emails.
Step four is to have your passport stamped. Before arriving in Saudi Arabia, please print your eVisa. Your passport will be stamped if your eVisa is valid.
Check the documents required to get the KSA tourist visa
The passport must be valid for at least six months after the arrival date.
A scan of the passport's biographical page
There should be at least two blank pages for verification of visa stamps.
Check the photo requirements for Saudi e-visas (clear face and the photograph should be taken as recently as possible)
Before traveling to Saudi Arabia, applicants must have travel insurance.
Make sure you use a valid email address to receive the e-visa result. 
Payment methods (such as PayPal, American Express, and debit/credit cards)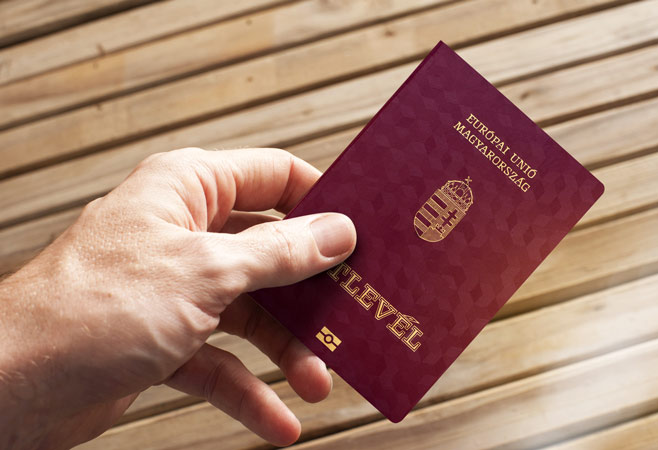 E-visas can be more cost-effective than traditional visas, which make travel to Saudi Arabia more affordable for Hungary citizens.
3. How much does the Saudi Arabia visa from Hungary cost?
When you book our tourist online visa service, the Saudi Arabia visa price will include two types of fees:
The Saudi Government fee is the mandatory fee for applicants seeking an eVisa KSA.
The Saudi visa service fee is the amount that Hungarian applicants must pay upfront for our services.
How long does it take to get a Saudi visa?
Saudi Arabia Immigration Services provides Saudi visa processing at three levels:
Normal: You should receive your e-Visa approval within three business days.
Urgent: It is critical that you obtain an e-Visa approval within 48 business hours.
Super urgent: Immediate approval of an e-Visa is required in 24 business hours.
Tips to save Saudi online visa costs with Saudi promotion code
Save a significant service fee when applying our promotional codes. Immediately visit the promotion section to receive the latest code. Please enter it at the time you make the payment. This is a special price that we give to our customers only. Discover now!
E-visas can help to improve border control, as immigration authorities can quickly verify the authenticity of an e-visa and confirm the identity of the traveler. 
Extra services for Travelers visiting Saudi
With only a small fee and filling out information once, Hungarian tourists can easily purchase additional utilities required when entering Saudi Arabia, namely travel insurance and a 4G sim card.
This is the utility we provide to our customers when applying for a visa online on our platform:
Visitors from Hungary should purchase a Saudi Arabia travel sim card. Staying connected to the internet while on vacation allows you to handle work remotely (answering emails, urgent messages, etc.) or easily communicate with friends and family.
It's fantastic that you can now easily buy Saudi Arabia travel sim cards online through our website. This service is already available on the Saudi Immigration Services website for a small fee.
Coverage for covid-19 travel insurance
Yes. In order to process your visa application, the Saudi government requires travel insurance. To apply for a Saudi tourist visa online successfully, the Hungary candidates must ensure that their Saudi travel insurance includes covid insurance.
Benefits of applying with Saudi Immigration Services
Fill out the application form from the comfort of your own home; complete electronic processing.
It is simple to receive email notifications at each stage of document processing or to track documents online.
Quick processing and turnaround - one of the fastest in the Saudi Online visa industry.
Convenient Payment Options with a Wide Range of Options (Credit, Debit Cards... accepted).
Our visa experts provide live chat support 24 hours a day, seven days a week.
If you are a Hungarian citizen planning to travel to Saudi Arabia, hope this article gives you the best useful information about Saudi Arabia visa for Hungarian citizens. By taking action now, you can have a successful visa and begin your a smooth travel experience to Saudi Arabia. Let's contact us now!