Saudi Visa Stamping Information For Travelers
By Mabel Collins
From past to present, Saudi Arabia has attracted people from all over the world for various purposes, such as business, tourism, and employment. However, before entering the Kingdom of Saudi Arabia, individuals usually need to go through a meticulous process known as Saudi visa stamping. 
This article provides comprehensive instructions to help you understand the Saudi visa stamping process, its types, and the steps involved.
An Overview of Saudi Visa Stamping
Travelers obtaining their Saudi Arabian tourist visa, employment visa, family visa, or any other visa category are required to complete the mandatory step of visa stamping. To accomplish this, they must undergo the process of Saudi visa stamping through the Saudi Embassy or Consulate located in their home country.
The visa stamp Saudi Arabia is commonly affixed to the initial page of your passport, although it may also be positioned on a designated visa page. It is imperative to maintain the quality of your visa stamp as it will undergo inspection by immigration authorities both upon your entry into and departure from Saudi Arabia.
Usually, the visa stamp takes the form of a rectangular sticker featuring the Saudi Arabian flag in the upper left corner. The text on the stamp is presented in both Arabic and English and contains the following details:
Your full name

Your passport identification number

The purpose of your visit

The duration of your stay

The date on which you are permitted to enter Saudi Arabia

The unique visa number
You must have a Saudi visa stamp to enter this country legally
The Saudi Visa Stamping Process
Visa stamping Saudi Arabia is a critical step in the journey of any foreign national planning to enter Saudi Arabia. It involves the verification and authentication of your visa by the Saudi authorities. Here's a step-by-step guide to the Saudi visa stamping process:
Visa Application: Before you can get your visa stamped, you must apply for the relevant type of visa through the official Saudi visa application process. This often involves providing necessary documents, such as a letter of invitation for a business visa or an employment contract for a work visa.

Approval: Once submitted, your application will undergo a review process by the Saudi authorities. If your visa application form is approved, you will receive a visa approval letter. This letter is essential for the subsequent steps.

Medical Examination: For work visa applicants, a medical examination is typically required. This involves various health checks to ensure that you are eligible to work in Saudi Arabia.

Attestation of Documents: Certain documents, such as educational certificates and employment contracts, may need to be attested by relevant authorities, often including the Saudi Embassy or Consulate in your home country. This is a crucial step to ensure the authenticity of your documents.

Saudi Visa Stamping: The visa stamping Saudi Arabia process occurs at the Saudi Embassy or Consulate in your home country. 

Travel to Saudi Arabia: After receiving the stamped visa in your passport, you are ready to travel to Saudi Arabia. Make sure to carry all the required documents, including the visa approval letter, with you.

Iqama Application: If you are entering Saudi Arabia on a work visa, your employer will typically initiate the process of obtaining your Iqama (residence permit) shortly after your arrival. The Iqama is crucial for your legal stay and work in Saudi Arabia.
The process of Visa stamping Saudi Arabia
Essential News About Saudi Visa Stamping
From 2023, Saudi Arabia has recently introduced substantial alterations to its visa prerequisites for visitors hailing from 12 specific nations. The Kingdom's General Authority of Civil Aviation (GACA) is set to put into effect fresh guidelines applicable to travelers arriving from countries like Turkey, Pakistan, and Lebanon.
Within this novel framework, there will no longer be a necessity for travelers to procure a physical visa sticker affixed to their passports. In lieu of this, a digitally printed e-visa is being introduced, featuring a QR code that encompasses all essential information and passenger details.
The introduction of e-visas marks the replacement of traditional stickers for labor, visit, or residency visas. The schedule for the gradual transition away from visa stickers on the passports of visitors from 12 new countries is as follows:
Pakistan: Effective from July 24

Yemen: Effective from July 26

Sudan: Effective from August 2

Uganda: Effective from August 7

Lebanon: Effective from August 9

Nepal: Effective from August 14

Turkey: Effective from August 16

Sri Lanka: Effective from August 21

Kenya: Effective from August 23

Morocco: Effective from August 28

Thailand: Effective from August 30

Vietnam: Effective from September 4
Requirements
To initiate the process of Saudi visa stamping, you must furnish the following documents:
Your passport, both the original and a copy, with a minimum validity of six (6) months.

A copy of the sponsor's Iqama (residence permit).

Two photographs conforming to the Saudi visa photo guidelines regarding size and specifications, taken against a white background.

A medical report, a prerequisite for work visas.
Additional Questions About Saudi Arabia Visa Stamping Status
1. How Can I Check My Saudi Visa Stamping Online Status?
To check your status, it's best to contact the Saudi Embassy or Consulate in your country or using MOFA online portal.
2. How Much Is KSA Visa Stamping fee?
Saudi visa stamping charge is contingent upon the specific policies of the Saudi Embassy or Consulate in your home country of origin or the authorized travel agency responsible for handling your visa stamping application. To obtain precise details regarding the Saudi visa stamping fee, it is advisable to reach out to either your local Saudi Embassy or Consulate or the authorized travel agency facilitating the process.
3. What Is The Validity Of Saudi Visit Visa After Stamping?
The Saudi Visit Visa is valid for 1 year.
4. How long does Saudi visa stamping take?
The processing time for Saudi visa stamping varies based on the type of visa and other factors. It can range from a few days to several weeks. It's advisable to apply well in advance of your travel date to account for potential delays.
Simplify The Saudi Visa Stamping Process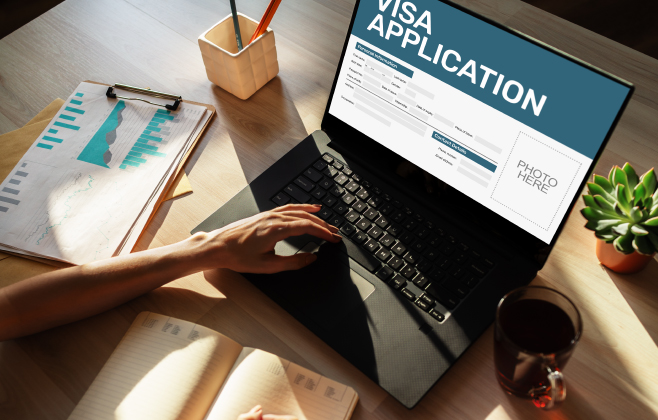 E-visa makes your Saudi visa stamping process easier
If you are worrying about the complicated Saudi visa stamping process, your solution is to apply for a Saudi e-visa. With this type of visa, travelers are no longer waiting at the Embassy for an interview. Otherwise, you can obtain it and then get a visa stamp on your passport Saudi Arabia. Moreover, the e-visa registration process will be done online by using our modern application system. Within 03 business days, travelers can have an e-visa, which is valid for 1 year and allows them to enter this country multiple times, each time staying up to 90 days.
Understanding the different types of visas, the required documents, and the steps involved is essential for a smooth and hassle-free experience. Be prepared, stay informed, and follow the rules to ensure a successful entry into the Kingdom of Saudi Arabia. With the right approach and patience, you can embark on your journey to this fascinating and culturally rich nation.